I wanted to create a quick update on some funky thing that google has decided to re-implement. In addition to yanking authorship photos and a bit more data about the author, they've decided to go back to (depending on search intent) displaying multiple instances of the same URL. This can be good and bad. It is good if YOU are the URL that is displayed (no current examples), but if YOU are not, then YOU get pushed down the page and down the page etc. you see where I'm going with this…
Example 1
Here is a recent search for "ambiance lighting" –which by intent it should mean that I am searching for a specific commercial brand of lighting. Here are the page 1 first 7 organic results:
There are only 2 (in reality) sites ranking (ambiance-lighting[fusion_builder_container hundred_percent="yes" overflow="visible"][fusion_builder_row][fusion_builder_column type="1_1″ background_position="left top" background_color="" border_size="" border_color="" border_style="solid" spacing="yes" background_image="" background_repeat="no-repeat" padding="" margin_top="0px" margin_bottom="0px" class="" id="" animation_type="" animation_speed="0.3″ animation_direction="left" hide_on_mobile="no" center_content="no" min_height="none"][dot]com is OBVIOUSLY directly connected to seagull lighting see their footer here:
So, other great companies that sell this brand get pushed to page 2: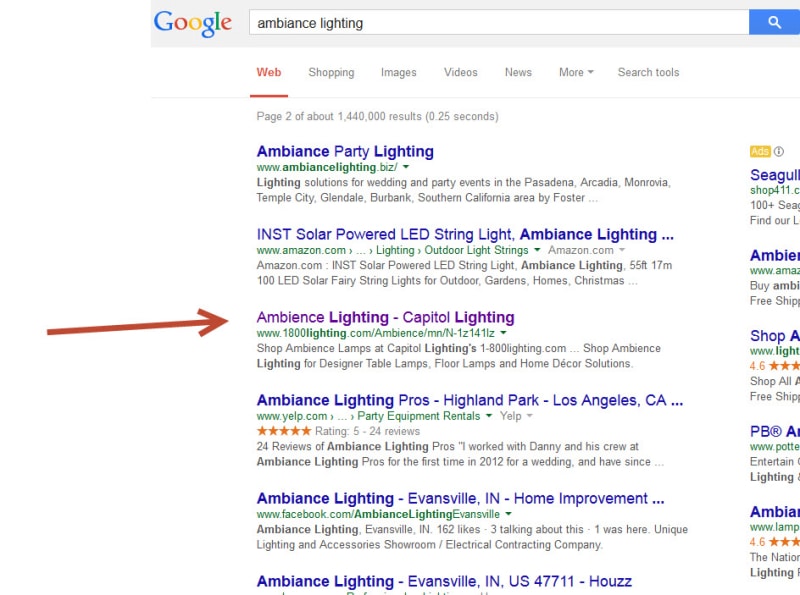 2!!! We all thought they stopped doing this in 2010, which is why we all as SEOs switched from optimizing subdomains to subfolders (I digress). Now here it is again! Is this a mistake? Nope!
What can we learn from this? What is actionable? Why am I spending 10 minutes to write this?
Always apply all best practices, even some antiquated ones, because you never know when the algorithm will be dialed down or changed in a way to rank results in a more classic fashion. A perfect example of this is the new Pigeon algorithm, which is about LOCAL SEO. Traditional ranking signals drive the highest ranking LOCAL results. Seeing Yelp a lot more lately in your own searches? Yep, that's part of it.
The good news is that based on some of our testing, I wouldn't be shocked if some sites (closely related by site ownership) saw MAJOR ORGANIC IMPROVEMENT based on some of the testing we've done here.
All Google algorithm changes documented here: https://moz.com/google-algorithm-change.
How would you address this problem? Let me know in the comments or via social media.
Lot's of Luck!
[/fusion_builder_column][/fusion_builder_row][/fusion_builder_container]