The widespread legalization of marijuana has led to an exponential boom in the cultivation, processing and sale of this miraculous plant. As the veil of prohibitionism drops, the general public is waking up to the truth about the potential medical benefits of marijuana and slowly letting go of the myths, misconceptions and outright lies. For those working within the emerging marijunana industry as Medical Cannabis Doctors (or aspiring to) medical cannabis doctor marketing strategies will come into play.
However, many nascent brands within this new but fast-growing industry may be unsure how to market themselves. They may be unsure of the legalities surrounding advertising and marketing medical marijuana. They may not know what restrictions are placed upon them and what they can and cannot say in their marketing copy.
They may wonder where they're allowed to advertise both in the digital and real world, they may wonder if their ads can only be viewed by adults or whether their ads need to contain warnings. Most of all they'll want to know how they can walk the line between educating customers about the value of their products and remaining compliant with the recent laws and regulations around marijuana marketing.
For newly formed businesses it can be a tightrope, and unlike most new startups the slightest missteps can lead to serious litigious repercussions. Fortunately, we're here to break down the complexities of marketing for medical marijuana doctors.
Hyper-Targeted Advertising will help your medical marijuana business grow
Because marketing for medical marijuana can be a potential legal minefield you may (quite reasonably) wonder whether or not you actually have to advertise at all. After all, this is a relatively new industry. Competition can't be that fierce already… can it?
The truth is that competition is more fierce than you may have realized and it's only going to become more dense in the coming years as more and more consumers come around to the potential benefits of medical cannabis use.
As of last year there are 9,397 active licenses for marijuana businesses. This includes all manner of businesses within the new industry including labs, dispensaries, distributors, cultivators, manufacturers, retailers and delivery companies.
As of 2017 there were over 120,000 people working in the medical marijuana industry and as the industry grows this figure is expected to more than double reaching 292,000 by 2021. Sales within the industry are expected to rise to $21 billion in 2021.
How your medical marijuana business benefits from advertising
Still not convinced? Even if we overlook the competition who are sure to be snapping at your heels in the coming years there are still a number of reasons why your nascent business should embrace marketing. Indeed, in a newly established industry where preconceptions and misconceptions remain pervasive among consumers, marketing is arguably more important for those in the medical marijuana business than virtually any other startup.
The right advertising campaign can challenge the negative myths and misconceptions surrounding your products, educating people of the benefits. It can help raise awareness of your products and sow the seeds of brand loyalty. It can help you to find and appeal to your target audience, as well as expanding the market and raising awareness among new markets. It can even help to raise awareness of your brand among the people who will one day become your new employees.
Marketing is an absolutely essential vehicle for growing your business. In an age where consumers tend to do their online research before committing to a purchase, most shoppers know that even in new markets they can afford to be fickle. The right marketing materials can position your product in front of potential customers and help them to form the right opinion of your brand. The kind that gets them off the fence and convinces them to buy rather than drift over to your competitors.
People turn to medical marijuana for a range of conditions, and with the right marketing knowhow and knowledge of SEO you can position your brand as the answer to their problems.
Understanding the laws around advertising marijuana
Hopefully by now you're convinced that marketing is a worthwhile pursuit. Nonetheless, you also know that it's important to do it right. You're just starting to build your brand and establish yourself as a name that consumers can trust. The last thing you need is to incur the ire of regulatory bodies with your marketing materials.
So, let's take a moment to go over the laws around advertising medical marijuana.
Get to know your state laws
As you probably already know, regulations vary a great deal between states. Medical marijuana use is legal in 29 of the 50 states. In 12 states there are no restrictions on digital advertising for medical marijuana while 17 states do place restrictions. If you're unsure what the laws and restrictions are surrounding medical marinjuana in your state check out the Interactive Advertising Bureau. It's also worth keeping in mind that there is often separate legislation for medical and recreational marijuana companies.
Looking at states like Colorado and Washington, where medical marijuana has been legal for longer than other states, these can provide a useful rule of thumb when it comes to where you can and cannot display your ads and what you can and cannot say in your copy.
Once again, however, you should always refer back to your own state guidelines before planning and designing marketing materials. However, using the above mentioned states as a guideline we can compile some tips that will help you to keep your marketing copy federally legal.
Displaying your ads
Physical ads for medical marijuana cannot usually not be placed within 1,000 feet of anywhere there is likely to be a high concentration of minors such as schools, parks, playgrounds, child care centers etc. Brands are also not allowed to advertise cannabis ads on or in public transportation or on any publicly owned property.
In Colorado, marijuana retailers are prohibited from advertising online if more than 30% of the website's audience is expected to be under 21 and advertising that is designed to target individuals out of state is also prohibited.
What you say in your marketing copy
As a medical marijuana business your advertising copy is expected to educate users as to the potential benefits, and marketing copy is expected to maintain an informative and educational tone.
Sounds good, right? That's pretty much exactly what you should be doing.
However there are caveats.
Your copy cannot make any definitive claims nor is it allowed to purport to "cure" any medical malady.
Your state may also place strong restrictions on the kind of imaging you can use in your ads. In Minnesota, for instance, ads cannot depict the actual cannabis plant itself not any paraphernalia for smoking or consumption. The use of colloquial references (i.e. weed) is also prohibited as is the use of plant strains by name and established medical symbols or anything to imply an association with conventional medicine.
You must also avoid any imagery that makes cannabis consumption appear to have recreational value, and certainly avoid encouraging over consumption. Giveaways and Coupons are also prohibited.
Limitations of advertising medical marijuana in the digital realm.
So, as we can see, the state places regulations on brands which can restrict how they advertise to their clientele. Obviously they are not allowed to target minors, nor are they allowed to advertise anywhere minors are likely to see their copy. And without being able to use images in their marketing copy they are also limited in the content of the advertisements themselves.
There are also quite stringent restrictions on where medical marijuana companies are allowed advertise in the digital realm.
One fairly uniform restriction on medical marijuana marketing is that popular platforms cannot be used. That means that giants like Google and Facebook are out. These titans between them make up over 70% of all digital advertising.
Nonetheless, there are still ways in which medical marijuana companies can (and do) advertise effectively online. Some brands use their own websites as a marketing hub while others reach out to social influencers.
While you can find success using such strategies on your own, it can be highly creatively frustrating and make you feel as though you're operating in the dark, even if you're highly proficient in the field of digital marketing.
Why use a medical marijuana marketing service?
As you can see, there are a lot of factors that must be borne in mind when marketing your medical marijuana brand and products. While the right marketing campaign can bring a wealth of benefits to your business, failing to comply with state regulations in your advertising copy can lead to serious repercussions which can do lasting damage to the credibility of your brand. And if you're operating within the medical space, credibility is everything. Remember that you'll be targeting a new audience of prospective customers who are taking their first tentative steps towards medical marijuana. As such, your reputation needs to be absolutely unimpeachable if they are to trust you.
Doing this can be tricky when you are creatively inhibited by the many restrictions placed on you by state guidelines. And cross referencing proofs of your copy with state guidelines can be a time-consuming and exhausting process.
This is why medical marijuana marketing services are so valuable for medical marijuana doctors. They are able to create bold and engaging marketing copy that can help your brand to resonate with your target audience, while being so conversant with state laws and restrictions that you'll never have to worry about compliance.
Focus on your growing practice, we'll make sure new patients can find you!
[action full_width="yes" content_in_grid="yes" type="normal" text_font_weight="" show_button="yes" button_target="_self" background_image="61889″ button_text="Diagnose Now" button_link="#localform" button_background_color="#97bb3d" button_hover_background_color="#649b20″]Diagnose Your Business Instantly[/action]
[testimonials_carousel category="practice" number_per_slide="3″ order_by="date" order="ASC" show_title="yes" show_rating="yes" author_image="yes" author_text_font_weight="700″ show_navigation="yes" navigation_style="dark" auto_rotate_slides="0″]
Why Search Geek Solutions?
Top search results
Effortlessly appear at the top of search results and reach patients across web and social.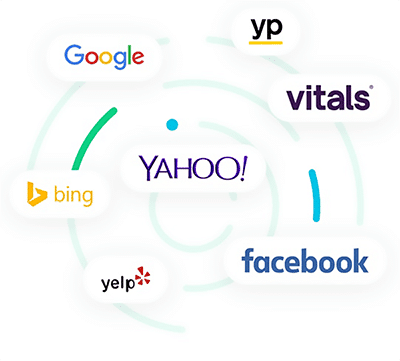 Reputation Management
Search Geek Solutions' "Reviews Generation & Monitoring" automates the process of  improving the quality and quantity of reviews across the websites that matter.
We offer small businesses their own access to enterprise reputation management software, and streamline their user experience so that they can build their businesses reputation while improving their visibility in organic search.
Streamline and Modernize the Customer Experience
Make it easy for prospective and current customers to engage with your brand wherever and whenever they find you online.