Hire An SEO Expert
An SEO Expert can help outline the steps before your Search Engine Optimization Campaign to maximize results.To become one takes years of practice.
Free 1:1 SEO Visibility Audit & Insights Review
Actionable recommendations we'll share with you:
Local Visibility Review

Local Traffic Insights

Technical SEO Recommendations

Content Audit

Authority Consultation

UX Review

Cost of SEO Expert Efforts
Become An SEO Expert Or Hire One
Boost Your Search Engine Rankings & Online Sales!
Is it time to level up your website?
Millions of businesses that are using self-building services for creating and sometimes hosting their websites agree; there are fantastic platforms that let you create professionally-looking websites without any programming skills. Flexibility, stunning designs, and easy management are the most common reasons why people choose platforms such as Wix.com, Squarespace, WordPress, etc. Additionally many website owners also rely on SEO freelancers to tackle the design of their websites.
But your website is one of many in the World Wide Web. How can you ensure it receives enough traffic to thrive? Our professional Search Engine Optimization experts are the answer.
Our expert team is dedicated to supporting all professional websites, including blogs, eCommerce platforms, and company sites, and bring your business to the next level with tailored digital strategies. Turn the dial on your online visibility by contacting an expert today!
What Does SEO Do?
Often shortened as SEO, Search Engine Optimization describes the range of optimization processes that allow a website to increase unpaid, organic traffic from search engine result pages (SERPS) such as Google, Bing, etc. To do so, SEO strategies increase the visibility of the site in the search results, which boosts the ranking position on the SERPS. SEO is one of the most significant factors of digital marketing success because it makes a website easy to find on Google and other search engines.
Why You Want to Rank on Google Top Pages
Maximizing the visibility of your website boils down to leveraging your SERPS rankings. For online marketers, appearing on the first page of Google is the Holy Grail of digital success for a number of reasons, including:
Fewer than one in four (1) search engine users scroll past the first page of SERPS, and even fewer reach page five
Almost 90% of smartphone users (2) visit search engines every day both for shopping and research purposes
Over 93% of browsing sessions (3) start with a search engine search, making it the top research tool for online consumers and visitors
Search engines leads have a high conversion rate, 14.6% (4), compared to less than 2% for other forms of digital marketing such as outbound leads
Search engine traffic accounts for 3X as many clicks (5) as social media marketing and higher quality clicks that lead to high conversion rates
In short, if your website doesn't appear on the first page or search engines, less than 25% of web users are likely to find you. The chances of getting found on SERPS decrease as many users don't browse beyond the first handful of results pages. Therefore, maximizing SEO rankings needs to be a priority for all website owners, regardless of your industry, your location, or your status.
Why it's Hard to Secure High SERPS Rankings
Your website competes against over 1.7 billion (6) websites for online traffic. Search engines play a crucial role in establishing meaning navigation online. Indeed, they filter results to show only the most relevant websites on the SERPS, based on the user's search terms. Search engines use constantly evolving algorithms to scan the World Wide Web content and collate and order websites by relevancy. For example, Google currently deploys machine learning as part of the ranking algorithm, which enables results to adapt based on a variety of factors.
Search engines rely on website crawling and access to web content to understand, categorize, and order elements on the result pages. SEO, therefore, focuses on the most relevant strategies and processes to influence the ranking and boost your visibility on the SERPS.
What Can an SEO Strategy Do for You?
An expert SEO strategy for self-built and self-managed website owners is designed to tackle the ranking and visibility challenges. You can expect significant benefits for your business:
Increase organic traffic from users on desktop and mobile devices,
Increase brand awareness by making your website appear among the most visited SERPs,
Boost the level of trust by creating a positive first impression,
Increase conversions rate for online but also offline sales
Achieve marketing sustainability to support business growth and expansion opportunities
Ultimately, a robust SEO strategy is detrimental to being seen and found by your audience. It's also a cost-effective marketing strategy; unpaid traffic is highly valuable for both your conversion rate and your brand reputation. Without a Search Engine Optimization plan, your business can't survive online. Our Search Engine Optimization experts put their experience and professional knowledge at the service of websites to bring their businesses to the next level.
Why You Need To Hire A Senior SEO ( Unless You're Good At SEO )
Users who want to hit the ground running in the shortest possible time choose effective and intuitive website builders. Most well-used platforms enable website owners to produce in a few minutes sites that look and feel professionally built without needing any coding knowledge. As such, a vast majority of self-built sites have quickly mastered the art of a beautiful design and layout. Thanks to the intuitive interface and the extensive choice of free templates available, most users don't need preliminary computing skills to launch their websites, as the handy building functionality does the hard work for them. Additionally, if you are in a rush, you can even let some platforms design the site for you, using a quick and straightforward getting-to-know-you questionnaire.
Why Your Self-Built Website Can't Boost SERPS Rankings
Website owners need to be able to grow their digital visibility to turn a good online idea into an income-generating business. Without relevant skills as an SEO, your beautiful website can't reach the audience and remains unnoticed. What's the point of a website that nobody sees? It's the question many self-built website owners ask. There is no point in creating a stunning website if nobody can find it.
The question you are too afraid to ask is the following: Did I build my website wrong for SEO? The answer is no. The last thing businesses want to do is to create another website from scratch and hope that this one will achieve better rankings. It would only lead to unnecessary duplicate content and affect your SEO strategy in the long term. Self-built designs create elegant sites for optimal user engagement and experience using the specific functions provided by each platform. But whether they've contracted a freelance SEO web designer or built the site themselves, web owners are left without guidance to add the essential SEO components for success. That's precisely where an Expert can assist you to optimize your existing website and level up your ranking potential.
Having an understanding of what SEO can do for your website is one thing. But being able to design and implement an SEO strategy for your website is an entirely different skill set. A Search Engine Optimization expert is the difference between a stunningly designed website nobody sees and a stunning designed website that attracts its target audience. Our experts understand the complexity of ranking factors on Google and other search engines. They know how to best translate SEO strategies into applicable and manageable actions that can be implemented into your website for maximum visibility and conversions. You've got nothing left to guess. You get the full SEO recipe for your website.
The Benefits of Outsourcing SEO for Self-Built Websites
Otherwise, known as, why you shouldn't do your own SEO unless you're already a qualified expert. There are four options for handling your SEO needs.
The first, leave it and hope for the best, you've already tried. It's what brings you on our SEO page today.
The second is to take the DIY approach, during which you spend countless hours researching the best practices and steps before SEO online before implementing the basic elements. It can be time-demanding and disheartening if you can't make rapid progress. For small teams or solo entrepreneurs, the DIY methodology can affect productivity levels dramatically, and leave you with no time for your clients.
The third is to hire a general SEO. With someone who does SEO as a profession, you get the benefit of their knowledge of search engine functions, ranking factors, and website optimization best practices. However, it's important to understand that the implementation stage can be problematic if you don't know how to maintain your site's feel and look.
The fourth is to choose specialized Search Engine Optimization experts. With an expert who's trained in the specific functions and settings of each web design platform, you benefit both from an outstanding SEO strategy but also from in-depth implementation knowledge.
Of course, there is no denying that you can learn the basics of SEO for websites. However, you need to be strategic about time management as a business. Online courses and self-teaching methods not only take a lot of time to master, but they also don't replace the long experience of professionally trained experts. As such, you want an expert you can rely on to improve your search engine ranking significantly and bring your website to the next levels. Besides, while you outsource your SEO, you can focus on what you do best, aka running a business and building your brand.
You can rely on our experts to save you time and money in your everyday activities, both online and offline:
We produce better results and achieve higher Google rankings. Naturally, we also achieve higher rankings on other search engines, such as Bing, for example.
We also produce quicker results than you could achieve; hence the SEO strategy rapidly boosts your sales.
We make your budget work harder by using the most efficient methods available for your specific site and design and hosting platform. Unlike general SEO specialists, we understand how to make the most of your platform for maximum visibility.
We keep ourselves updated and follow all the latest trends in search engine updates and user behaviors so that you won't get left behind.
We handle all aspects of the SEO plan so that you dedicate your time and energy on running your business.
Our Search Engine Optimization Experts' Promise
Our team hits the sweet spot where expertise and design know-how meet. (We'll tell you what we love about being an SEO.) While a website designed via a web development service platform will look and feel the same for your visitors as a website built on a competitive platform, it doesn't mean that platforms behave similarly. On the contrary, without dedicated knowledge of individual platforms, you could build the same website on different platforms and get two distinctive layouts and search engine rankings. That's where our expert SEO service goes the extra mile in ensuring that your website is not just optimized for online visibility, but also for the platform's unique range of settings and options.
Our expert's promise to our clients ticks all the vital options for your business to thrive online:
We focus on the most relevant metrics for optimized SEO based on our experience and knowledge of Google's latest algorithm updates.
We have an in-depth understanding of the ever-changing customer trends and search trends, such as voice search, which enables us to build your site for sustained and long-term success.
We always work towards maintaining the look and feel of the site and design you've worked on through all the necessary SEO modifications.
We use the best and most relevant web development plugins and apps for optimal on-site UX (user experience) in combination with strong SEO requirements. UX is an often-misunderstood factor of SEO ranking that we include in all our strategies for best and user-friendly results.
We provide ongoing support so that the implemented SEO strategies can continue evolving with the digital playground and drive ongoing positive results in weeks, months, and years to come.
We understand that businesses often hear that organic SEO success takes time. We are committed to delivering rapid and significant results from the start of our SEO strategy.
Because we value the future of your business and its commercial growth, our team of professionals is dedicated to designing the best possible path for your SEO success. We know that having a website serves no purpose if nobody gets to visit it. That's why, at the heart of our strategy, we focus on giving your business the digital presence it needs to thrive.
The Difference Between An Search Engine Optimization Expert And SEO Specialist
An Expert tends to keep up on all of the changes in Google's Algorithm and can see the big picture, where an SEO specialist might follow a checklist to complete SEO tasks.
Understanding Keyword Research
While search engines use a variety of factors to rank websites, the most important of all is your choice of keywords. Indeed, the search engine algorithm acts as a traditional Ctrl+F for Windows users or command+F for Mac users: it's a search function that scans to match the terms in the search box with content from the World Wide Web. The backbone of any successful SEO strategy relies on identifying the most relevant search terms entered by users who are looking for services or products similar to your business offering.
The Anatomy of A Keyword
Because SEO keywords are designed to match search terms as closely as possible, they can be words or phrases that you want your website to rank on. While there is no official limit as to how long or how short your keyword should be, the consensus is to keep your keyword as natural as possible. One of the most common mistakes made by DIY SEO amateurs that may sound like an SEO is to select terms that "sound good" for the brand but that are unlikely to be used by people. As such, our SEOs understand the need to maintain a human voice in the keyword generation.
It's also important to mention at this point that the human voice used on search engines doesn't compare to the way people write and speak in everyday life. For instance, it's likely that you've found this page by searching for an "Search Engine Optimization expert". The search term is relevant to the webpage and relates to our service. But, if you were to explain to someone what you need, you would rephrase your request by joining words through a complete and much longer sentence. It is one of the biggest differences to consider when researching keywords for your website. Your role is to anticipate how prospective clients will describe their needs in a condensed linguistic format.
What is a Relevant Keyword?
Understanding what makes a keyword relevant to your business boils down to knowing your business target audience.
As a business, you sell a range of products or provide services for a unique client's profile. Your niche market influences the choice of keywords. Therefore, it's always beneficial to know how competitors and users research similar products and services in your market. Firstly, it means that you don't have to invent a new search term for an existing concept. Secondly, it also ensures that your keyword choices remain relevant to your audience group.
It's not uncommon for companies to create distinctive keyword lists to differentiate multiple geographical locations, for instance. These are called local keywords and can include the city, the country, or the region, for example. Companies should also make a point of including local jargon if a specific product or service is called something else in the location. Organic keywords, on the other hand, relate to particular search terms that remain constant regardless of the users' locations, such as the industry sector, the product types, or the brand names.
How to Choose Keywords, The Rule of Three
Unfortunately, understanding what a keyword is and what makes a keyword relevant to your users' needs doesn't guarantee the success of your SEO strategy. There is a lot of preparatory work that our experts do with their clients to choose the most suitable terms for their websites.
Indeed, search engines match websites by relevancy related to the specific search terms typed by the user. In other words, Google scans websites to find whether the search terms appear in the content and whether it meets the intentions of the user. With dozens of potential ways of saying the same thing, how do you select the terms that are the most likely to bring high traffic to the site and deliver the biggest sales conversions? To avoid keyword stuffing, the process of combining too many keywords for ranking purposes in a way that affects the user experience, we discuss with you the best keyword solutions for your website.
You can rely on your expert to consider the rule of three when choosing keywords:
Volume: We find out how many times a specific search term is used in search engines. There is no point in selecting a keyword that nobody searches for, as it would be a waste of your time and money. Additionally, a highly popular keyword that has a high search volume could also be a risky choice as you are at risk of attracting a broader range of visitors. As a rule of thumb, high volume search terms tend to be more generic, and therefore the prospect of high visit and conversion rates is likely to get lost in the process.
Competition: A popular search term is a smart choice for your SEO strategy. However, with billions of websites sharing the World Wide Web, the popularity of the keyword you choose could backfire. A keyword that has a lot of competition from established brands and reputable websites dramatically affects your chances of ranking on the first result pages, let alone #1 in the SERPs. We help you select keywords that guarantee the best possible visibility per search for your website. For instance, a small e-commerce website that picks "online fashion" as a primary keyword for its content is likely to be crushed in the SERPs by the likes of high profile competitors, ranging from e-commerce brands to fashion magazines.
Accuracy: The keywords need to be relevant to your business offering. While it might be tempting to pick high volume keywords that don't adequately describe your activities in the hope that your web content can convince visitors to stay and buy, you are at risk of falling at the bottom of the SERPS. As search engines pick up on the quality of visits, a website that doesn't manage to keep the traffic for a specific search term loses its ranking position. From a commercial perspective, you are also wasting the opportunity to boost your sales revenue when you pick an inaccurate keyword.
Picking the keywords that work for your website is all about balancing your options to find the sweet spot where a keyword meets the three factors, volume, competition, and accuracy. The path of success is ready to begin as soon as you have identified the right keywords for your website. Indeed, they influence content generation for your SEO, but they can also become a big part of your digital marketing strategies. With our support, we can help you to tailor the best SEO strategy to support your business objectives.
Sources:
1: https://blog.hubspot.com/insiders/inbound-marketing-stats
2: https://www.go-globe.hk/local-seo/
3: https://www.searchenginejournal.com/seo-101/seo-statistics/
4: https://www.slideshare.net/NewsCred/50-best-stats-presentation
5: https://www.searchenginepeople.com/blog/40-unbelievable-seo-statistics-need-know.html
6: https://www.internetlivestats.com/total-number-of-websites/
7: https://seotribunal.com/blog/stats-to-understand-seo/
8: https://backlinko.com/google-ranking-factors
9: SEO By The Sea
The Right Keywords Tools for Your Website ( To Become An SEO )
How do you best choose keywords, short or long, that work both for your business and your target audience?
Our Search Engine Optimization experts rely on the best tools on the market to gain insight on keyword selection and keyword placement for your website. Additionally, because we understand that you may want to take over the reins in the long term, we also invest time in your education to help you master the different tools and techniques safely and confidently. As such, we use extensively tools that are accessible and free to website owners.
Google Keyword Planner
Google accounts for over 70% of all online searches (7), which makes its tool an essential in the toolbox of every expert. The tool can be accessed with the Google AdWords platform and is completely free to use. It provides not only valuable insights in your keywords and how they perform in terms of volume and competitiveness, but it also has a great selection of synonyms and similar search terms that can expand your SEO creativity. All you need to gain access is a Google account, which you can create for free.
Google Trends
Google Trends is free to use and lets you research specific keywords over time. For content creators and business owners who are looking for the latest trends, it's a great way of monitoring popular and lesser popular terms. It also highlights seasonality so that you can plan your SEO content accordingly.
Keyword Tool from Keywordtool.io
Keyword tool is a free online tool that offers high reliability of results. Unlike Google Keyword Planner, the tool guaranteed 99.99% of reliability, making it a great addition to your digital marketing kit. The tool also comes with a premium version for marketing professionals. However, the free version lets you generate up to 750+ long-tail keywords suggestions for any search entry, providing you with plenty of new content ideas and directions to explore. Ultimately, the Keyword Tool uses Google Autocomplete function, which lets you explore the current trends and thoughts of online users in over 80 languages.
Answer the Public
It's the closest you can get to follow someone's thought process and understand your visitor. The tool tackles common search questions (Why? What? How? etc.) before considering propositions and comparisons search terms. What are those? Proposition search terms focus on phrases that contain "without", "for", "with", etc. to address different issues related to the keyword. Comparison addresses all the versus, like, unlike factors. A great tool for content and ideas!
On-Site & Off-Site SEO Essentials For Someone New At SEO
Keywords are at the heart of your SEO strategy. But our experts for websites also keep track of all essential on-site ranking factors that bring your visibility and conversions to the next level.
Meta tags
Meta tags are part of the HTML code of your website, but they can be easily accessed and optimized through the meta tag editor. When search engines crawl sites, they read through the HTML to understand and scan the content, which makes your meta tags detrimental to your ranking.
Google extracts the meta title and meta description to display on the SERPS. Your choice of wording and keywords influence not only your position in the result but also users' clicks. An appealing description can attract more clicks and lead to more potential conversions.
Heading tags
Heading tags format your content by dividing it into H titles, using the H1 title at the top of the page, and ranging down to H2, H3, and further below for further divisions. Because search engines give H tags more weight than a paragraph of content when it comes to ranking, it's always a good idea to incorporate relevant keywords in the titles.
Most web design platforms can analyze the page ranking potential by checking, among other factors, your heading titles. But our SEOs will also produce for you pages that are adequately formatted for SEO ranking. Alternatively, we are also happy to teach you how to create optimized content for search engines and readers.
General site settings
Getting your site settings right can support your keyword ranking efforts. Indeed, for new websites, for instance, your SEO will always recommend choosing a domain name that will include one of your primary keywords to boost your SEO results instantly.
Additionally, keeping your site tile, page descriptions, and image texts optimized to support your SEO strategy can go a long way in increasing your visibility.
On-site technical factors
Ranking algorithms consider over 200 different metrics (8) to determine the ranking position of a website. Your keywords are vital, but they are not the only ranking factor to monitor.
Our SEO team will help you make sense of the most important ones:
SSL encryption status
Image optimization
Loading time
Mobile optimization and navigation
UX
Additionally, we will also help you understand how to avoid black hat SEO tricks that can get you penalized and removed from search engines indexing.
Backlinks SEO
Your website should not exist in isolation. Google pays close attention to your backlinks, aka sites that link to your websites, as they are a testimonial of your authority and popularity. Therefore, we help you to manage public directories, local results with Google My Businesses, your social media strategy, and also tips to attract external links.
Secure Your Free Search Engine Optimization Expert Quote Now
Whether you are considering launching your business website or you're wondering how to improve an existing site, our  expert team is committed to giving you the best possible service for your website visibility. Getting you on the first page of Google SERPS is the SEO objective to boost your performance and create long-term results.
Want to know more about our SEO services? Make the most of our free consultant service and audit of your site.
Contact Your Search Engine Optimization Expert For Hire
SATISFIED BUSINESS OWNERS
830% Increase in Organic Visibility
580% Increase in Bookings
Bloomfield Dental Designs




97% of consumers use search engines to search for a local business online
90% of B2B decision makers search for business services or products online
Gain Maximum Visibility In Search
Appear at the top of local search results and reach prospects across all devices like Voice Assistant, Mobile, Desktop Browsers.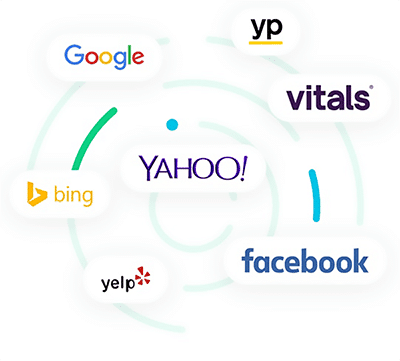 Initial Audit & Discovery
We perform a high level audit to determine needs and review this with you in a 1:1 session with one of our Search Geeks:
Visibility Research
Competitive Market Research
Technical SEO
Content Audit
Authority Audit (Links and Citations)
Tactical Plan & How You Win
Our professional SEO services are 100% tailored to your business requirements. We begin with an in-depth analysis of your website's structure, strengths, and weaknesses. This step is the foundation of a great SEO strategy.
Plan & Execution
After we have completed our in-depth analysis of the business we start execution of SEO strategies. We offer a wide variety of SEO services and campaigns, but the general flow is:
In-depth keyword research
Content Planning
Technical SEO
Authority Build (Citations / Links)
Content Placement / Optimization
Supportive Content
Proprietary Tasks / Research (For Competitive Niches)
Custom Monthly Success Reporting
Deliverables
We quantify every task/effort with the impact on visibility/traffic/conversions:
Content
Citations / Links
Custom Monthly Success Reporting
Reporting Review Meetings
Strategy Sessions
Monthly SEO Task Breakdowns
Project Management Transparency
Reputation Management Builder
We build your business' reputation while improving your visibility in organic search.
Search Geek Solutions' "Reviews and Reputation Management" reviews software automates the process of  improving the quality and quantity of reviews across the websites that matter.
Web Vitals Performance Optimization Case Example