Insurance SEO Services: Boost Your Insurance Agency's Online Presence with SEO Services!
Full-Service Insurance SEO
Search Geek Solutions, based in New Jersey, is your leading agency for specialized SEO services tailored for insurance companies and agents. We offer comprehensive insurance SEO services that strategically target your customer base, ensuring optimized coverage for your online presence. Our services are not limited to generic SEO practices but are honed explicitly for the insurance industry. We leverage our insurance search engine optimization services expertise to boost your visibility in this competitive field. In addition, we are experts in local optimization, known as insurance SEO local optimization, making us a preferred choice for businesses aiming to dominate their local markets. We are committed to optimizing your agency's digital footprint and driving success for your business.
What Is Insurance SEO?
Insurance SEO, also known as Insurance Search Engine Optimization, is a digital marketing strategy agencies like Search Geek Solutions use to improve an insurance company's online visibility. The service enhances your insurance website's position in search engine results, using targeted keywords relevant to your business, such as 'coverage,' 'service,' and local keywords for optimizing the local search.
The Aim of SEO Optimization
This optimization aims to attract more traffic to your website and convert visitors into leads and, ultimately, clients, enhancing the growth of your insurance business. Companies, independent brokers, and agents can all benefit from this service, as it can help find prospective customers searching online for insurance services.
Best Practices in Insurance SEO
The best practices in insurance SEO involve a comprehensive approach that includes mobile optimization, conversion optimization, user experience optimization, and algorithm optimization. Mobile optimization ensures that your website is user-friendly on mobile devices, while conversion optimization focuses on turning visitors into customers. User experience optimization focuses on improving the overall experience of your website visitors, and algorithm optimization keeps your website updated according to the changes in search engine algorithms.
What Does Search Geek Solutions Offer?
Search Geek Solutions offers all these services in our local SEO strategies. We understand the need for a unique SEO strategy for each business and offer customized solutions to meet these needs. We also specialize in SEO for insurance agencies, making us the best choice for your insurance company's digital marketing needs.
The Importance of Top Insurance SEO Keywords
In addition to these, they can also help you identify and utilize the top insurance SEO keywords to optimize your content and improve your online visibility. This strategy helps attract more organic traffic to your website and increases the likelihood of you getting more leads and customers.
Continuing SEO Maintenance and Education
Finally, Search Geek Solutions can help educate you on maintaining your website's SEO and provide tips to keep it at the top of search engine results. Through this, you can ensure that your business continues to attract and convert more clients online, growing your client base and improving your overall business performance.
Get A Free Audit And Learn What Effort It Will Take To Get Your Site To The Top Of Google.
Actionable recommendations we'll share with you:
Local Visibility Review
Local Traffic Insights
Insurance Technical SEO Recommendations
Content Marketing Audit
Authority Consultation
UX Review
Cost of Full-Service NJ SEO Services Efforts
Our SEO Process, Tactics, and Insurance SEO Pricing
TESTIMONIALS, CASE STUDIES, AND CLIENT REVIEWS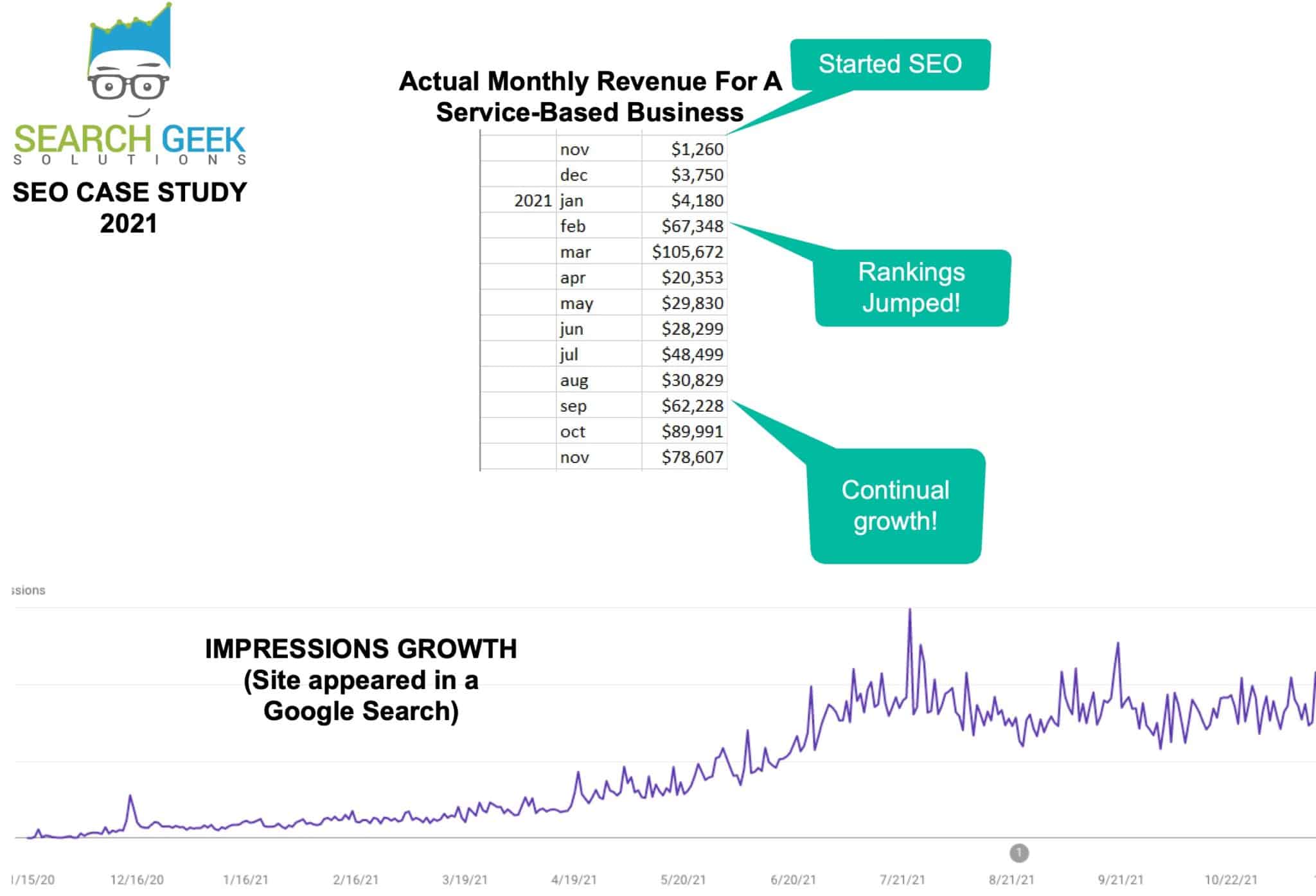 Why Is Insurance SEO Important?
97% of consumers use search engines to search for a local business online
90% of B2B decision makers search for business services or products online
Maximum Visibility In Search
With Insurance SEO, appear at the top of local search results and reach prospects across all devices. Examples include Voice Assistant, Mobile, and Desktop Browsers.
We build your business's reputation while improving your site's visibility in organic searches with Insurance SEO.
Our "Reviews and Reputation Management" software automates improving the quality and quantity of reviews across the websites that matter.
Stephen Galgocy – Insurance SEO Expert
Stephen Galgocy is an Insurance SEO Expert with over 18 years of experience optimizing Insurance websites to generate positive SEO growth. He thrives in the art of SEO, practicing SEO as a science and embracing data science and AI as necessary SEO tools.
On Our Team - Lead SEO Expert Stephen Galgocy
Maximizing the Potential of Long-Term Insurance SEO Maintenance and Education
Embracing long-term SEO maintenance and continuous education in the insurance sector can lead to sustainable business growth and enhanced long-term value. These strategic elements ensure a firm's digital marketing efforts remain productive, effective, and competitive.
Long-Term Insurance SEO Maintenance: A Key to Sustainable Business Growth
Continuous SEO updates and optimizations

The dynamic nature of search engine algorithms requires regular maintenance of SEO strategies. You can stay relevant in search engine results by continuously updating and optimizing your website according to current SEO best practices and ensuring sustained organic traffic growth.

Competitive analysis and keyword research

Long-term SEO maintenance involves regular competitive analysis and keyword research. These processes enable insurance companies to stay abreast of market trends, identify high-value keywords, and develop content strategies that engage targeted audiences and outperform competitors.

Link building and site architecture enhancements

A robust SEO maintenance strategy involves link building and enhancing your website's architecture to improve user experience and site crawlability. These tactics can boost your site's authority, increase page load speeds, and improve ranking on search engine results pages.
The Long-Term Value of Insurance SEO Maintenance and Education
Improved brand visibility and online presence

SEO maintenance and education can enhance a company's brand visibility and online presence, increasing leads, conversions, and customer retention.

Increased ROI from SEO investments

Companies can maximize their return on investment by maintaining SEO efforts and continuously educating staff about new SEO practices and strategies. This commitment enables businesses to adapt to changing search engine algorithms and capitalize on new growth opportunities.

Future-proofing the business

Long-term commitment to SEO maintenance and education helps to future-proof the business. It allows insurance companies to remain competitive and resilient in the face of changes in search engine algorithms, digital marketing trends, and consumer behavior.
Ultimately, the benefits of long-term SEO maintenance and continuous education in the insurance industry cannot be overstated. It ensures an insurance company's digital footprint remains impactful, its business growth is sustainable, and its value proposition consistently resonates with the engaged online audience.
Top 10 FAQs on Insurance SEO
1. What is Insurance SEO?

Insurance SEO is optimizing an insurance company's online content so search engines can find and rank it higher on the search results page. The goal is to increase web traffic and attract more potential customers.
2. Why is SEO important for insurance companies?

SEO is vital for insurance companies as it can improve their online visibility, help reach more potential customers, and increase conversion rates. It's a cost-effective way to market your business online.
3. How does local SEO help insurance businesses?

Local SEO helps insurance businesses attract customers from specific geographical locations. By optimizing for local SEO, insurance businesses can appear in localized search results and Google Maps, which can drive foot traffic.
4. What is keyword research in SEO?

Keyword research in SEO involves identifying famous words and phrases people enter into search engines. In the insurance context, these keywords could be "cheap car insurance," "home insurance quotes," etc. These keywords are then used to optimize content.
5. How can I improve my insurance website's SEO?

There are several ways to improve your insurance website's SEO: optimizing your website's content for relevant keywords, improving your website's speed and mobile-friendliness, securing your website with HTTPS, and earning quality backlinks from reputable websites.
6. How long does it take to see results from SEO?

SEO is a long-term strategy, typically taking several months to start seeing results. However, once achieved, these results can have a lasting effect on your website's traffic and visibility.
7. Are backlinks important for SEO?

Yes, backlinks are one of the ranking factors used by search engines. They indicate the trustworthiness and credibility of a website. A site with many high-quality backlinks will usually rank better than an otherwise similar site with fewer backlinks.
8. What is on-page and off-page SEO?

On-page SEO refers to optimizing individual web pages, including the content and the HTML source code. Off-page SEO refers to all SEO activities away from the website, such as earning backlinks, social media marketing, and guest blogging.
9. Is SEO a one-time thing?

No, SEO is an ongoing process. Search engine algorithms are constantly changing, so keeping up with the latest SEO trends and optimizing your website is essential.
10. Can I do SEO for my insurance business myself?

Yes, you can do SEO yourself. There are many resources available online that can help you learn the basics of SEO. However, SEO can be complex and time-consuming, so many businesses hire an SEO specialist or agency.